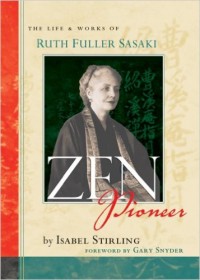 L'ouvrage est en deux parties,
Tout d'abord la vie de Ruth Fuller Sasaki, de façon assez détaillée pour nous faire sentir la richesse de sa personnalité.
puis
trois textes de  Ruth Fuller Saski :
.  Zen : A religion (voir un extrait ici)
.  Zen : A method for Religious Awakening
.  Rinzai Zen Study for Foreigners in Japan : des indications concrètes pour permettre aux Occidentaux de se familiariser avec les usages dans un temple zen, la manière de se comporter ainsi que maints détails pratiques concernant l'argent, la cuisine, la santé, etc.
Commentaires sur Amazon :
1 – Many years ago I had heard about an American woman who became the head abbot of a prominent Japanese temple but I couldn't remember her name or anything else about her. When I discovered this book, I decided I wanted to learn more.
Ruth Sasaki came from a wealthy family. Nothing in her early life suggested she would be anything more than a society matron who keeps a fine home, perhaps with a servant or two, produces a handful of children, before disappearing into local history.
Her interest in things Japanese sparked a deep, life-long desire to delve into Zen, translate key texts, restore a rundown temple at Daitoku-ji, and offer financial support to a group of followers to carry out these tasks.
If you're interested in Zen, or how it was made available to a wide audience in North America, this is a fine text to have in your collection.
2 – The life and thoughts of a Zen heroine
The book is really in two parts. Part I (which is the longer of the two) is a biography of Ruth Fuller Sasaki. The writing style, while not great provides a biography of a very interesting woman… roughly in the tradition of Alexandra David-Neel. Partly because I lived in Kyoto shortly after Ruth Fuller Sasaki died, I found this both informative and fascinating. Part II contains a few of her writings about Zen and about practical matters pertaining to living in Kyoto and studying Zen. These writings are small gems in terms of providing an explanation of Zen Buddhism and what Kyoto was like in the early 1960's.